Like many other businesses, COVID-19 brought enormous challenges to aquaculture producers who sold most of their product to restaurants and restaurant suppliers. In response to this, VIMS Marine Advisory Program (VMAP) with funding through Virginia Sea Grant, established the AquaCultured project to assist aquaculture producers in establishing direct marketing and sales to consumers for consumption at home.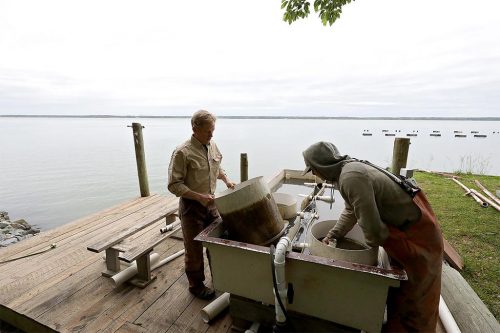 During the first year of AquaCultured, the project provided growers with e-commerce education to build capacity for growers to sell online, as well as a direct marketing campaign to promote aquaculture products with consumers. The direct marketing campaign included:
special events pairing aquaculture products with complimentary food and beverage such as local craft beers and Virginia wine and peanuts
educational videos for consumers
website and social media campaign
Over the next two years, AquaCultured will work closely with growers to foster more direct connections between the seafood growers and their food and beverage counterparts. During this time, we will expand an online platform to support grower education and marketing.
Next steps include virtual meet-up with aquaculture producers and food and beverage producers so they can plan and conduct their own special events, and trainings for aquaculture producers on listing their products in a newly launched seafood locator app.
---
Upcoming Events
Virginia Aquaculture Conference: January 7-8, 2022, Newport News, VA
Grower and Food & Beverage Producer Meet-up: February 2022 (Virtual)
Bay Direct Seafood Locator App Training: March 2022 (Virtual)
---
E-commerce Tools